We are specialists in the manufacture of metal-based products and assemblies, using both Modern and Traditional Pressings all under one factory roof.
With our wealth of experience, we can deliver products from initial design through to end production, reducing time and costs and tailored to your specifications.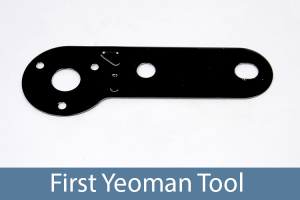 Our history is a long one. Back in 1963 Mr Yeomans installed a fly press in his cellar at Beech Road in Stourbridge, so he could start making small pressings. After his neighbours complained about the noise, he moved to Cradley Heath and set up as a sub-contract presswork supplier to the automotive industry.
Since then the company has undergone a few transitions of ownership including in 2010 when Graham Yeomans the grandson of the original founder became one of four equal own/directors.
As of August 2017 Yeoman Pressings Ltd saw another leadership change to that of Graham Yeomans and his wife Tracey Yeomans buying the company outright and fulfilling a life long goal of Graham who always wished to bring the company back into the family.
Today Yeoman Pressings has a turnover of £2.5 million and proudly employs more than 30 staff at its headquarters in Coseley, Wolverhampton.